If you had to separate the world in simplistic terms, it might take on a movie title: The Good, the Bad and the Blonde. Though we all love redheads and brunettes, blondes are a special category of human. Be they fake, classy, honey, wholesome, crass, icy ... they represent the grand spectrum of life. Especially in movies.
So, in honor of Veronica, Lana, Marilyn, Marlene and their blonde brethren, I'm celebrating 10 great blonde movie milestones. And please note: I don't mean the greatest blondes -- cinema's full of fab flaxens -- but the greatest blonde
movies
, where blonde-ness is either integral to the plot or created a pop-culture phenomena. Grab the peroxide and settle in ...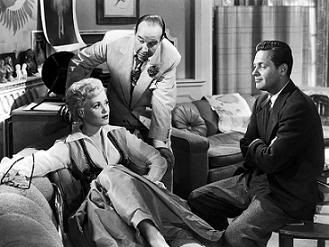 10.
Born Yesterday
(1950) --
The Not-So-Dumb-Blonde
Now would this title make any sense if our leading lady were a brunette? Judy Holliday practically created the funny, bottle-blonde, good-time moll whose fractured vocabulary can be more creative than the poetry of e.e. cummings. Her high-pitched, birdbrain voice even embarrasses her bullying gangster boyfriend as he attempts to socialize with the classy people in Washington, D.C. Enter William Holden, who's paid to smarten her up. But in the age-old dilemma of men not really wanting their women that smart (too smart to figure out he's a jerk), her boyfriend tires of all her newfound knowledge. For example, while attempting to degrade her, he yells, "You think you're so smart, huh? What's a peninsula?" "It's that new medicine!" she shrieks back. But after his violent threat of, "Shut up! You ain't gonna be tellin' nobody nothin' pretty soon!" she barks back: "Double negative!!" Holliday's physical and vocal incarnations would later surface as Jean Hagen's Lina Lamont in
Singin in the Rain
("An' I can' stan' em!") and Mia Farrow's chorus chorine in Woody Allen's
Radio Days
("Hawk! I hear the canon's woar!") and, of course Reese Witherspoon's
Legally Blonde
protagonist Elle Woods, who may not even know just how indebted she is to this movie.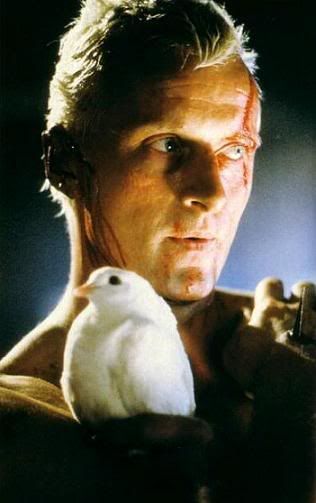 9.
Blade Runner
(1982) --
Cyber Blonde
A little bit Marlene Dietrich, a little bit David Bowie and all man, Rutger Hauer's Lucifer-like replicant in Blade Runner is one of the most sublime blonds ever to hang from a rain-soaked rooftop. Against the hard-boiled Harrison Ford, the perfectly made Hauer steals the show as a broken hearted baddie who finalizes the picture with one good deed. Making many a guy weep for that extraordinarily good-looking Aryan (Hauer's Dutch but ... same thing), he no doubt, made legions of guys sneak into their girlfriend's supply of Clairol. Or come out of the closet. See,
Hitcher, The
.
8.
Double Indemnity
(1944) --
The Femme Fatale
Film noir had an overflow of dangerous blonde dames. For example, Lana Turner's blonde-in-white in
The Postman Always Rings Twice
, Veronica Lake's peek-a-boo in
The Blue Dahlia
and Peggy Cummins pistol-packing mama in
Gun Crazy
. But it is Barbara Stanwyck in Billy Wilders
Double Indemnity
that still reigns as noir's meanest ice queen and perhaps cinema's smartest blonde. As Phyllis Dietrichson, the double crosser to Fred MacMurrays Walter Neff, Babs wore one of cinema's greatest wigs: a shoulder-length, golden-blonde number with thick under-curled bangs. With those dark glasses, she's the eternal symbol of the femme fatale. It's no mistake that Brian De Palma opens his
Femme Fatale
with her steely image. Don't ever think blonde means soft. And again, Veronica Lake. OK, it's a tie. I
have
to include Ms. Lake.
7.
The Bad Seed
(1956) --
The Terrible Towhead
Though Marlene Dietrich sang, "You'll try in vain, you can't explain, the charming, alarming blonde women," she could have just as easily been singing of blonde children. Being an evil blonde child is the ultimate perversion: Blonde kiddies are supposed to represent purity. But
The Bad Seed
tapped into what some of us secretly think about those do-gooder Goldilocks with their cutesy smiles, pigtails and pinafore dresses -- evil! Not only does little 8-year-old badass Patty McCormack clobber a kid to death with her shoes (the ones with the taps on them), she then torches the maintenance man who is on to her. Never trust anyone over 30? Try under 13 ... and blonde.
6.
White Oleander
(2002)--
The Blonde-semble piece
"We're not like that. We're the Vikings," says sociopathic blonde mother Michelle Pfeiffer to her crying teenage daughter Alison Lohman in
White Oleander
. One of cinema's great blonde-semble pieces, this melodrama is supposed to be, in part, about the foster-care system, but
Oleander
really shows the varied, sometimes insane incarnations of blonde womanhood. Pfeiffer -- a gorgeous mix of Ted Bundy and Grace Kelly -- gets thrown in the slammer for killing her lover, leaving Lohman to endure a series of traumatic foster moms. One is a trashy blonde ex-stripper (Robin Wright Penn) who ends up pulling a gun on the teenager. The other is a loving but needy blonde actress (Renee Zellweger) who's so insecure she overdoses on sleeping pills. Somehow these women's tragedies are made all the worse because they're blonde, giving the picture a subversive, underlying theme of blonde oppression. A stretch? Hardly. Check out the two massively dramatic scenes involving hair. One has a hardened Lohman attacked by a (ahem) brunette in a juvy facility. Sick of being pretty, Lohman cuts her long blonde hair with a knife! You can practically hear the ringlets screaming. She then lumbers over to the offending brunette and threatens to cut her throat. And when Lohman makes the decision to avoid the painful foster moms she's drawn to (you know,
blondes
), she chooses the no-nonsense, saucy foster mother with the dark hair. Then she does something that makes her gorgeous prison mama almost faint in the visiting yard: She dies her hair black! What is the world doing to her?
5.
Blonde Venus
(1932) --
Uber Blonde
At the same time of Jean Harlow's popularity, Josef von Sternberg was crafting his own goddess in the very German form of leggy, sunken-cheek-boned and languid Marlene Dietrich. Sternberg made many iconic blonde movies for Marlene (
The Blue Angel
and
The Scarlet Empress
just to name a few) but
Blonde Venus
stands out as the ultimate in blonde ambition. Dietrich plays the full spectrum of the blonde. She's an ex-German café singer who marries a good-hearted Englishman. She's a happy hausfrau and adoring mother. Then, she's a cabaret star and harlot who dances in a gorilla suit and becomes really, really famous. You know, the whole blonde journey. The film features two iconic blonde numbers: There's Marlene in her famed white tux, tails and top hat and, Marlene in a gorilla suit. In one of film's most surreal moments, Marlene removes a gorilla head revealing her blonde-haloed face. To make herself even more eye-popping, she grabs a blonde Afro wig, places it on her head and sings "Hot Voodoo." Describing this moment requires two words you don't often see together: blonde genius.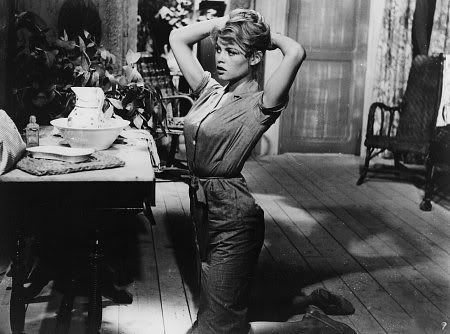 4.
And God Created Woman
(1956) --
Initials BB
What a difference a movie makes ... Though Marilyn was a sensation, it's French sex kitten Brigitte Bardot who created a sexual revolution. Directed by her then-husband, Roger Vadim,
... And God Created
Woman
essentially invented the sexuality, style and liberation of the next decade. Gyrating to bongo drums, frolicking naked on the beach, engaging in illicit sex and driving men crazy with a desire they never knew existed, BB threw the late '50s finely coifed blonde world on its soft derriere. Simone de Beauvoir wrote an ode to her; the Catholic Church condemned her; and paparazzi hurled themselves over cliffs for her. Not to mention Serge Gainsbourg wrote songs for and about her -- "Je t'aime" was written especially for Bardot. BB was so ahead of her time here, with her exotic, lioness blondeness of long unkempt hair, full lips and sun-kissed skin, it took the '90s to catch up to her. There would be no Claudia Schiffer and no Pamela Anderson without BB.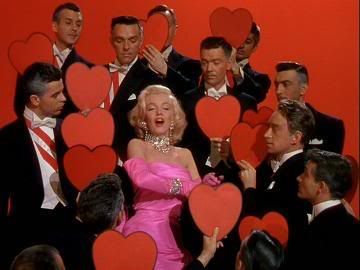 3.
Gentlemen Prefer Blondes
(1953) --
The Bombshell
There are those men who swear this title isn't true, and in many cases they're right, but if you had a choice between Jane Russell and Marilyn Monroe in Howard Hawks'
Gentlemen Prefer Blondes
, come on, who would you choose? OK, that's a tough one. Jane is supremely hot; her distinct dark-brown beauty and decency is important to
Gentlemen
, serving as the temper to Marilyn's gold-digging pluck. You see, the brunette gal understands MM (who, incidentally, had the same colorist as Harlow over two decades later): She's got a heart of gold, it's just heaving for diamonds. This, of course, leads to one of the greatest blonde musical numbers in cinema history: "Diamonds Are a Girl's Best Friend," extolling the virtue of having your assets and eating them too. The number is one of the greatest blonde contributions to world history, not to mention the inspiration for another famous blonde -- Madonna.
2.
Vertigo
(1958) --
The Hitchcock Blonde
"Blondes make the best victims. They're like virgin snow that shows up the bloody footprints." So said Alfred Hitchcock, whose fave blonde, Grace Kelly, you would expect to grace this list (not to mention fellow fair-heads Tippi Hedren in
The Birds
and
Marnie
, Eva Marie Saint in
North By Northwest
and Janet Leigh in
Pyscho
). Sorry. Kim Novak in
Vertigo
makes this thriller the ultimate Hitchcock blonde movie. Revealing the fetishistic obsession the auteur had with the fairer haired, Hitch made the aw-shucks Jimmy Stewart into a raving pervert thanks to Kim and that hair! Falling for the suicide blonde with the upswept 'do, Stewart goes to pieces when he sees her apparently dive from a church tower. But when he finds her look-a-like in a decidedly floozy brunette (Hitchcock really found a difference between the classy blondes and the feral brunette), he simply can't love her unless she's the cool blonde in the gray suit. When Novak finally walks towards him with her hair EXACTLY the way he likes it, you'd think she'd just parted the Red Sea. Leave it to Hitchcock to film the most magically perverse and sickly romantic blonde moment ever.
1.
Bombshell
(1933) --
The Prototype
With the help of eccentric aviator Howard Hughes, who labored over the starlet's moniker ("Blonde Landslide"? "Blonde Fury"? "Blonde Sunshine"?), cinema's first and greatest blonde, the swaggering, tough-talking but endearing Jean Harlow, was labeled the "Platinum Blonde." Director Frank Capra dutifully changed the title of his Harlow screwball from the decidedly un-sexy
Gallagher
to, well,
Platinum Blonde
. Harlow, the first fake blonde (her natural color was ash blonde), had already changed follicle history forever by making blonde the "it" color. Brave women went peroxide crazy attempting to emulate the newest screen sensation, defying those who deemed them floozies. In Victor Fleming's 1933's
Bombshell
, Harlow was game to make clever fun of her persona, on screen and in real life (though the film was also based on the first "it" girl Clara Bow). A hilarious look at the goofy shenanigans of a movie star, her "people," the industry, and the man who falls in love with her,
Bombshell
contains this famous line, hysterically uttered by a blonde-smitten Franchot Tone: "Your hair is like a field of silver daisies. I'd like to run barefoot through your hair!"
Tweaked and extended from my piece at
MSN